Monday, 27 June 2011
at 6:51 am
5 comments:


Sunday, 19 June 2011
We've had a major reshuffle in the shop, and have some lovely new goodies coming in from these three creatives!
Clutterfly Jewellery
You've probably seen these, and asked where the wearer has got them! I have a selection of single, double and mini hearts coming to the shop!
I have a custom one in this style which says 'Pesky' which gets LOTS of attention!
Arcanum Accessories
I loved their latex rose range so much, I asked Jo to send over some hairclips - the shop is currently in a hair accessory drought!
Crown and Glory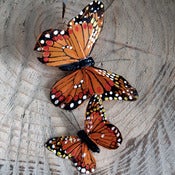 Also making a return are Crown and Glory - their butterfly clips were wildly popular last year just before Christmas, so I've asked Sophie to send over some more for our new regulars!
at 3:24 am
1 comment:


Friday, 17 June 2011
So here's another competition for you! I'm giving away a goodie bag, because I have a big bargain box at the shop!
You'll get 15 randomly chosen items from the box posted to you for free. There are rings, earrings, necklaces, badges, all sorts of stuff!
All you need to do to enter is comment on this blog post. If you tweet about it, let me know, or if you post to facebook, tag the fan page over there - you get an entry every time you tell people about the competition!
facebook page -
https://www.facebook.com/LifesBigCanvas
twitter account -
http://twitter.com/#!/pesky33
Competition closes Sunday evening 9pm GMT
at 3:15 am
4 comments: