We've had a major reshuffle in the shop, and have some lovely new goodies coming in from these three creatives!
Clutterfly Jewellery
You've probably seen these, and asked where the wearer has got them! I have a selection of single, double and mini hearts coming to the shop!
I have a custom one in this style which says 'Pesky' which gets LOTS of attention!
Arcanum Accessories
I loved their latex rose range so much, I asked Jo to send over some hairclips - the shop is currently in a hair accessory drought!
Crown and Glory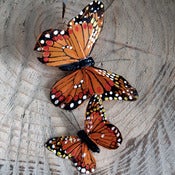 Also making a return are Crown and Glory - their butterfly clips were wildly popular last year just before Christmas, so I've asked Sophie to send over some more for our new regulars!